Promoting Your Products...
Promoting your products whether they be holidays, jobs or pieces of jewelry is probably one of the most important aspects of your store. Successful displays can make all the difference between a busy thriving outlet and one which people walk by without even noticing.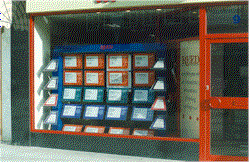 An easy to follow layout for advertising jobs was a requirement for one client. Here, clarity of display and an uncluttered approach were uppermost in the design requirements.
.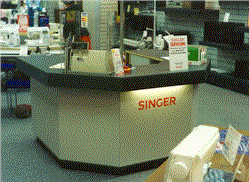 Developing a brand logo and signage for example, can be key to establishing a UK wide presence. Barleycroft can help with all aspects of sign design.
Equally important, once within, your store must feeling inviting with an appealing layout and offer easy navigation to the different displays. Here, specialist joinery techniques can be utilised to give that extra-special layout.
Above all, attention to detail is paramount. Barleycroft staff can help you to get the very best use of your premises in a manner that helps you to sell your products.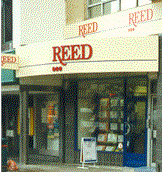 Notice here the three different types of sign to catch the eye from a variety of angles in the street.
Whatever your location or type of premises, we can help you to ensure that customers do not pass you by. Once in your store we can help you display any product to its best potential.